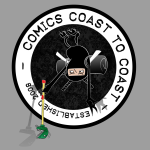 Yes, THE Wiley Miller of Non Sequitur graced us with a wonderfully informative and entertaining interview.
 In part one of this eye-opening conversation, Wiley tells us what is wrong and right with everything cartoony. The artists' approach, the point of view one should have as a commercial entity, and most interestingly- how to think like an editor.
Wiley has spent many years working at newspapers and he knows how newspapers think and how they approach comic strips. He also tells us how he broke barriers in working for new approaches in coloring the Sunday pages.
Wiley is good enough to open this treasure chest to us and we are all the better for it. Get ready to scrap all that you think you know.
Wiley's new book, "Attack Of The Volcano Monkeys ", features the continuing adventures of Ordinary Basil.
After the interview, Brian and Justin talk about the mechanics of illustrating the LAST FRAME of your comic. Do you make it huge and spastic- thereby directing the reader's eye to it before they read it and therefore spoiling the joke, or do you make the first frame have the most visual impact to lead the reader? Or does an explosion at the end leave the reader wanting more? Hmmmmmmm….
We also plug the webcomic Kevin and Kell by Bill Holbrook. Check that out, it's great.
Download us at iTunes or just listen here. 

{enclose cccep32.mp3}
These are the Comics Coast To Coast guys comics:
A Mission Deep by Brian Dunaway
MythTickle by Justin Thompson
Booksmarts by Tom Racine