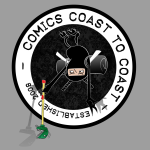 On this very special episode, Tom and Justin interview the Mutts' best friend, Patrick McDonnell.
 Patrick discusses his wonderful comic strip Mutts , his enlightened point of view on life and living, and his work with the Humane Society and other important animal rescue efforts.
Patrick is a very warm and generous guy who gave us our longest interview ever. He's also very soft-spoken, so if when you are listening to this you are wondering why Tom and I sound so loud, please understand that it's not because we wanted to sort of 'sit a little bit higher than our guest', it's just that that is how the recording went.
We hope you enjoy this interview and find it as helpful and inspiring as I do. After I listened to it, I couldn't wait to get behind my drawing table again.
If you have comments, please let us know here or on our web board .
Thanksh!

{enclose cccep30.mp3}
These are the Comics Coast To Coast guys comics:
A Mission Deep by Brian Dunaway
MythTickle by Justin Thompson
Booksmarts by Tom Racine