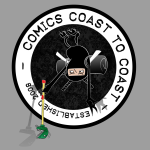 Justin Thompson had a chance to sit down and spend a little one on one time with the very talented Jerry Van Amerongen creator of Ballard Street .
Due to the our crazy holiday schedules we recorded this on a Wednesday night and Tom was unable to attend so it's just me (Brian) and Justin this week.
Our webcomic pick of the week is Winsor and Albert  by Matthew Thompson (not related to Justin.)
This is the cover to Jerry's latest book, "Practicing Human Skills. It's available through Amazon.com or from Jerry's own website, https://www.ballardstreet.com/.
These are the Comics Coast To Coast guys comics:
A Mission Deep by Brian Dunaway
Myth Tickle by Justin Thompson
Booksmarts by Tom Racine