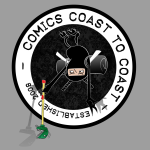 Tom and Justin do a phone interview with super-editor to the stars; Amy Lago of the Washington Post Writers Group . She handles Berke Breathed and Brian Crane to name a couple, and has helped launch Darby Conley, Stephan Pastis, and Jef Mallett. Amy lets us in on what an editor does and how we can help her help us! She also has some advice to aspiring cartoonists and some essential tips when preparing their submissions. Amy also shares with us three brand new comics that she and the WPWG are launching.
They are:
"Watch Your Head" by Cory Thomas ,
"Little Dog Lost" by Steve Boreman , and
"It's All About You" by Tony Murphy .
So check those new comics out, tell us what you think at the Comics Coast To Coast forum.
We really hope you enjoy the show.
This week's "You've Got Some 'Splainin' To Do" is the October 8th Mary Worth, and was pointed out to us by Danny Burleson of The Blog Comics.com . Thanks for that, Danny. You can find it in our forum . "What the…?"
Tom's Webcomic Pick of the Week is XKCD
So all of you aspiring professional cartoonists out there, get a pad and take a few copious notes.
These are the Comics Coast To Coast guys comics:
A Mission Deep by Brian Dunaway
Myth Tickle by Justin Thompson
Booksmarts by Tom Racine