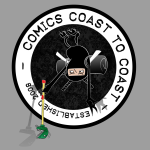 On this show Tom takes a breather, and Justin sits down with Stephan Pastis of Pearls Before Swine and asks him to comment on the Berke Breathed interview (see show #17). You'll really love this interview, it's very silly at times, engaging and informative. He's quite a guest.
I also talk to Lex Fajardo of Kid Beowulf for about 5 minutes because I had some questions about the lucrativeness, or futility of this whole web/independent press/cartoonist thing.
Prepare to have second thoughts!
This show contains a lot of material for the cartoonist who's trying to swim for the top.
So get a pad, a pen, and prepare to take notes.
Check out our web comic pick of the week: The Perry Bible Fellowship .
Buy Stephan's new Pearls Before Swine collection: The Sopratos .
A Mission Deep by Brian Dunaway
Myth Tickle by Justin Thompson
Booksmarts by Tom Racine