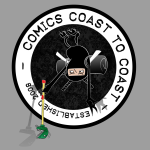 On this episode of Comics Coast To Coast we talk to Samantha Leriche-Gionet (aka Boum) of Boumeries

Boumeries By Samantha Leriche-Gionet
https://boumeries.com/
About Artist:
https://comics.boumerie.com/?page_id=2
Samantha Leriche-Gionet (aka Boum) is a 28-ish freelance filmmaker, animator, comic artist and illustrator who lives and works in Montreal, Canada.She enjoys the company of rabbits, snowy days,
cheese, retro video games, and sporting weird hairdos.(Elle parle français aussi!)
About The Comic
https://comics.boumerie.com/?page_id=2
Boumeries is mostly about her life sharing a four-room flat with her programming partner Pierre-Luc and their daughter Margot, working at home, juggling with everyday chores and drawing, and having absurd dreams in the meantime.
Show Notes:
The Beginnings:
It's like you woke up one day and said "That's it. I'm drawing a damn comic about my life….and you never looked back". Brian
Art:
You draw your life. Ever get in any trouble for drawing family or friends in your comic? How is your self image? Brian
(For anyone wondering Boumeries reads great on the iPad via the comic blog.) Joel
I noticed you re-format your comic into a square (2×2 grid) and post it to tumblr… Part of your design plan or a decision made on the fly? How has that worked out for you? Joel
Writing:
How much do you embellish the events in your life to turn them into a journal comic? (If at all.) Joel
You write about your dreams a lot. Do you wake up and jot those suckers down in the middle of the night? Gimmie your process, Brian
On a lighter note, do you really dream about toilets that often? Matt
Life:
Were there any hiccups with your schedule when the baby came? Or just more material and you are awake 24 hour a day anyways…might as well draw a comic. Brian
I can barely get one comic out a week these days. How did you manage (besides the obvious) on Hourly Comic Day 2013? Joel
Is that a "thing"? Your thing or a journal comic thing?
Most of us tend to think we live rather uninteresting lives. How do you break past that mental barrier to find your material? Matt
Animtion, art techniques and everything else:
I'm guessing Boumeries s hand drawn, with some digital tweaks. C you walk s through your process? Joel
In the comic/geek world, the down-playing (some would say bullying) of women has gotten to be a bit of a hot button issue. Matt
Have you had any encounters with it?
https://www.youtube.com/watch?v=s4Rjy5yW1gQ&feature=player_embedded <—- Check this out after show
"Animation!
" Joel
What made you decide to incorporate animation (gif?) into your comic?
What is the process you use for the occasionally animated comics? Matt
The Future:
You have books. Tell me about it all. Brian
Who do YOU want to hear interviewed on Comics Coast to Coast? (Put someone on the hot seat!) Joel
Madéleine Flores
Bee and PuppyCat on Cartoon Hangover Brian
https://www.youtube.com/watch?v=XoKGhce5-08