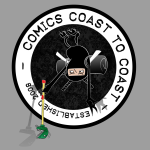 On this episode of Comics Coast To Coast we talk to Caroline Breault about her Nuclear Winter comic.

Nuclear Winter By Caroline Breault
https://nuclearwinter.cabfolio.com/comic/en_ch1_p1/

About The Artist:
https://nuclearwinter.cabfolio.com/about/
Caroline Breault (aka Cab) is a Montreal-based illustrator and comic artist. Nuclear Winter is her first long-term project. Her short comics have appeared in various independent collectives such as Merure, Vestibulles and shortly, in Le Front #6 as well as a collection published by Glénat Québec. Contrary to what some might think, she doesn't really enjoy winter in the city.

About The Comic
https://nuclearwinter.cabfolio.com/about/
Nuclear Winter is a comedic webcomic taking place in Montreal nine years after a nuclear accident at the fictional Gentilly-3 power plant. The city, though used to rough winters, is now covered by dozens of feet of radioactive snow and under constant assault by meteorological events of unprecendented force. It is in these perpetual snowy settings that Flavie, a ski-doo courrier, makes her daily deliveries, while having to deal with mutated and eclectic urban fauna. Mixing post-apocalyptic sci-fi and historical storms, Nuclear Winter is a story about the complicated, love-hate relationship Montrealers have with winter, in a city that has the some of the most extreme annual temperature changes on the planet.
Show Notes:
Is Nuclear Winter a "write what you know" kind of comic? Snow? Courier? Chocolate Covered Marshmallows? Jerkface roommates? Brian
Is there much difference in humor and culture between France and French-Canadian? Excuse my ignorance. Brian
Did you have to do a lot of research on the physics and fall out of a nuclear disaster or are you just pulling from pop culture? Joel
You have a unique angle in telling the usual doomsday story; normal, everyday life, meets the apocalypse. How did you come up with the story? Matt
Is the comic created in French and then translated to English? or just the opposite? Do the jokes always translate across languages? Brian
No qualms about coursing in your comic. I'd be coursing too in 72 months of -15 and several feet of snow. Any regrets? Positive feedback from readers? Joel
Style & Art:
Using real world locations so predominantly in a comic is not the norm. What made you decide to go in that direction? Brian
Do you go outside and get inspiration from your surroundings? Brian
Flavie's hair seems to be a character of it's own. Autobiographical? Joel
You made a bold decision to go full-color right out of the gate. Has it been difficult to maintain the quality and stay on pace? Matt
Follow up to Matt's color question: I have been struggling with color settings on my monitors. NW on the iPad looks great. Given the nature of different monitors out there, do you worry that someone is reading the comic thinking, "Guh! These colors are off" when it's really their monitor? Joel
I love the fact that your primary character is not a skinny little stick chic. But she's no Cathy either ACK!! I'll never fit into this swimsuit. Brian
Your panels, poses and design (characters) move from detailed to broad and simple. By choice, or simply a time/deadline thing? Joel
Some of your character design feels familiar (in a good way) – Who are your inspiration in comics? Top 3, go with your gut. Joel
Love your background work. It is super charming and cozy. Do you find your self obsessing over the details? Brian
Technical Stuff:
While I read your archive on a big monitor, I noticed your page layout is tall and thin. Is that purely for print purposes later, or have you considered digital collections or how people may consume the comic on mobile devices like the iPad or other tablets? Joel
You recently started chapter two. How many chapters are planned? Matt
Other Stuff:
Not just a comic-er. Can you tell us about some of the other projects you've worked on? (IE: Concept for games, great backgrounds on your website…) Joel
Where do you lie on the whole Star Trek vs Star Wars debate? or are you more of a Firefly kind of person? Brian
https://comics.boumerie.com/
Personal/History:
Follow the guys on Twitter: Brian, Joel, and Matt
Special thanks: Scott Johnson (https://myextralife.com), Sebastiaan (The Mashup Man) for our Mashups, Nicole Spagnuolo (https://nicolespag.com) and everyone behind the scenes
Official Note Taker: