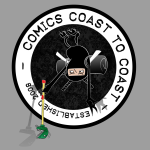 On this episode of Comics Coast To Coast we talk to Michelle Czajkowski about Ava's Demon comic.

Ava's Demon By Michelle Czajkowski (ch ay – k aw – s k ee )
https://www.avasdemon.com/

About Artist:
https://www.kickstarter.com/projects/1908899476/avas-demon-book-one
Hey everyone, I'm Michelle Czajkowski and I graduated from the School of Visual Arts in 2011, interned at Pixar, work at Dreamworks, and I'm trying to start a brand new chapter in my life through telling stories and making art. You can find out more about me on my linked in page or the official tumblr blog for the comic! Please feel free to ask me any questions about the work!
https://www.linkedin.com/pub/michelle-czajkowski/6/352/940
https://avasdemon.tumblr.com/

About The Comic
https://www.kickstarter.com/projects/1908899476/avas-demon-book-one
"Ava's Demon is my ongoing science fiction and fantasy, multimedia webcomic about a girl named Ava and the demon haunting her.

Well…ok…it's a bit more complicated than that. The demon might just be the ghost of an alien queen, Wrathia, seeking revenge on the one that destroyed her empire, a god-like figure named Titan. The story follows Ava as she makes her way across the universe, teaming up with the demon haunting her on a quest for revenge, while fighting her own inner demons along the way. I've been working on this story for quite some time…so this book is only the beginning!"
Show Notes:
Personal/History:
Whovian or Trekkie? Brian
Are you a fan of Eyvind Earle (Disney Background Artist primarly known for his work on Sleeping Beauty.) Favorite animation period? Brian
2d or 3d animation? Brian
Can you tell us about your experiences as an intern at Pixar and the work you did at Dreamworks? Brian
Tell us a little about the difference between what you learned at school and what you had to do in the real world? Did you need Algebra? Brian
Art:
The first thing that you notice about Ava's Demon is the deep dark color pallet. How did you decide on the colors ? Joel
Interesting choice to use a fixed frame size for the majority of the visuals. What made you choose that approach, and why a square? Matt
You're painting digitally… Can you walk us through the creation of a typical panel? What's your process? Joel
(You even have an animated GIF breakdown: https://avasdemon.tumblr.com/tagged/tutorial – What's that last step?)
Love the little animated chapter breaks. Are you planning some way to incorporate them into the book? Matt
(animated chapter breaks follow up)
The animations didn't work for me on iOS or on Mac desktop. What do Apple users need to do to watch them? Joel
Do you have a collection of visual development art anywhere online for Ava's Demon? Joel? Matt?
https://robotmichelle.deviantart.com/ Woo!
Writing/Character:
The story is an interesting mix of sci-fi and occult. Where did the inspiration come from? Matt
No spoilers, but the scope of Ava's Demon gets pretty big, pretty fast (fist two chapters). How much did you write ahead of time? Joel
Current Projects:
Tell us all about your KickStarter project for Ava's Demon: Book One. You kind of knocked it out of the park. Do you feel validated? Brian
Future:
What can we look forward to? Brian
Follow the guys on Twitter: Brian, Joel, and Matt
Special thanks: Scott Johnson (https://myextralife.com), Sebastiaan (The Mashup Man) for our Mashups, Nicole Spagnuolo (https://nicolespag.com) and everyone behind the scenes
Official Note Taker: