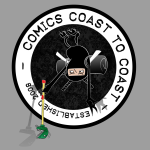 Notes Coming
{enclose cccep16.mp3}
We talk to the artistic genius who goes by the handle 'Dan Piraro' of the comic Bizarro.

He's a fascinating guy and a damn fine interview. Only problem is, we have have had the biggest SKYPE problem on this show that we've ever had. Major time-lag, and your friendly hosts are just stumbling all over each other. But when we let him talk, he is just amazing.
Hope you enjoy it. In spite of the technical problems, Brian did an amazing job in post-edit, so full credit goes to his mad-skills in getting the show as good as can be.
Also, at the end of the show we hear from Brian Anderson of Dog Eat Doug who has a very special announcement.
SO listen, enjoy, and please forgive us the Skype lag.
Please visit Dan Piraro's very special website: Woodstock Farm Animal Sanctuary . They do wonderful work.
Cheers!
A Mission Deep by Brian Dunaway
Myth Tickle by Justin Thompson
Booksmarts by Tom Racine