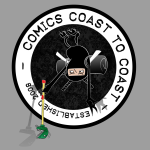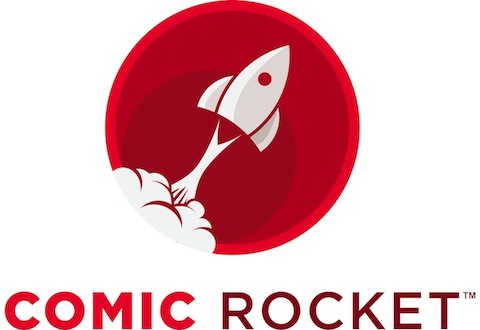 On this episode of Comics Coast To Coast to 2 of the co-founders for the smooth looking web application Comic Rocket.
About Comic Rocket: (source: comicrocket.com)


"Once upon a time there was Serialist, a crowd-sourced bookmarking tool for webcomics created by Josh Triplett and Jamey Sharp. This tool allowed Jamey to keep track of the 800 or so webcomics he read much easier than RSS or browser bookmarks did. The two creators toiled quietly and enjoyed their comics.

Meanwhile, in 2011 Andy Grossberg and Tim Shields formed a business called Comic Rocket based around a Facebook app that would let people read online comics for free while interacting socially. They joined the Portland Seed Fund's first class and received invaluable advice and a little scratch to pursue the vision. With their deep experience in the comics and games domains they lined up deals with major publishers and let the application loose on the world.

One day, Jamey happened upon a demo Comic Rocket was giving at the Portland State Business Accelerator. He was fascinated by the places they were taking comics and by that shiny thing colloquially known as ""graphics."" Before long he was signed on to become Chief Technology Officer of Comic Rocket. Shortly after that, it was decided the business would pivot into the growing field of webcomics. Comic Rocket v2 came about when the guys merged their businesses and a new vision was born.
"

Jamey Sharp — Chief Technology Officer, Co-Founder — Jamey has been programming computers since he was a child. He's literally a rocket scientist who spends some of his spare time with the Portland State Aerospace Society. Previous gigs include core programming for the Tova Company and leading groups of programmers for Portland State's Capstone Project. Jamey has dominion over all things programmatic at Comic Rocket. He also reads more webcomics than most humans can imagine, now topping 900.

Andy Grossberg — Chief Creative Officer, Co-Founder–Andy has worked diverse jobs in the comics industry since 1994, doing everything from lettering, editing, and even publishing. He's written comics that have sold hundreds of thousands of issues. Most recently, before co-founding Comic Rocket, Andy wrote and edited for the genre culture magazine Tripwire. Andy's job is to predict the future of comics. He was also a media analyst for the web industry back in the bad ol' 1.0 days.
As always, you can find our show by clicking the link below, or if you want to take us with you,
you can download us from iTunes.

Show Notes:
A Few Question:
are you familiar with Ink Outbreak?
Totally. They're a good site. They're different than us, the same way Top Web Comics or Belfrey is. We're sort of all sharing the same ecosystem.
Can you explain a bit about how Comic Rocket is different than these other services?
Let's start with InkOutbreak since you did. A key difference between us is that we index the webcomics on our list. So we focus on archives and they look at pretty much the first comic or the top page. We also are building a community around our users and their reading lists. Something like Top Web Comics or sites like that are basically just long lists of comics usually voted up by readers and stacked by popularity. Popularity on our system is just another way of searching for comics and doesn't grant any comic any more special preference than any other on a reading list. Our aim is to replace RSS and be the reading tool everyone uses for all the webcomics they can find. But I think we can all coexist peacefully.
what was your motivation/inspiration for Comic Rocket?
Bringing comics to as many people as possible as easily as possible which is of course online. Tim Shields and I had a startup that was putting mainstream digital comics into Facebook for free. Jamey happened upon one of our live demos and was intrigued since he already had a webcomics reading list program he'd been doing for a while. There was massive synergy, mostly on the "free" part. It just made sense that we expand into webcomics and it rapidly took over our whole focus. And this of course dovetailed nicely with the direction the comics industry is heading reluctantly anyhow.
what benefits can a cartoonist expect to see from your service?
Good question. Hopefully a lot of referrals! Cross-pollination with other comics through our recommendations so it gives the ability to reach an audience that they might not have had. We're inadvertently doing a lot of technical and design support. Community as we build out the tools for it. Same with our metrics package we're working on. There's a whole bunch of stuff coming up I can't talk about that's going to be really cool. There's a funny story that actually goes back to late last year before the beta was even ready where Dork Tower apparently borked their archive and they started sending people to us, so we became their accidental backup database for their links.
is this the future of reading webcomics?
I sure hope so! LOL I think it's A future. I think anything that increases the awareness and reach of webcomics is webcomics' best future.
will you ever be out of beta?
Eventually. There's just so much to do and there's really only so much the 3 of us can do in a day. There's so much more to it than just programming features our users want. I'm doing all sorts of customer support tasks while at the same time researching ideas for features, and doing graphics–being a jack of all trades is tough!
what webcomics do you read?
That I'm caught up on and reading regularly? Sam & Lilah, Alpha Flag, Order of the Stick, Bearmageddon. There are maybe easily 45 that I've started a few pages into and am saving to archive dive later when I have time. I'm enjoying BattlePug a little at a time, and I went on a Gunnerkrigg Court binge for a while. Plus there are all the ones recommended to me that I want to get further into like Everblue and Drive and reMIND and Derelect; Xkcd off and on, Girls with Slingshots, the usual suspects. These are all shared on my reading list on the site of course.
What plans – if any/that you can talk about – do you have for mobil? Often a sticky point with web cartoonists who get a portion of their revenue from their website ads/clicks.
As things stand right now, anything we do is always going to point to the creator's site and send the traffic through to them. That's what we do. We're just the toolbar at the top of the frame. We want creators to get as much traffic as possible and all the revenue that comes with it. We don't strip out ads so any mobile version should probably preserve that.
You guys seem to have such deep respect for the creators that I have to ask, have any of you created a comic before?
I wrote Spawn 19 & 20 back in the day and a few smaller things. I also letter manga working for my wife Susie who is our communications director. There's a chance Tim or I will write something in the future I'm sure.
Follow the guys on Twitter: Brian, Joel, Matt and Denver
Special thanks: Scott Johnson (https://myextralife.com), Sebastiaan (The Mashup Man) for our Mashups, Nicole Spagnuolo (https://nicolespag.com) and everyone behind the scenes
Official Note Taker: