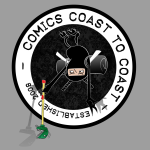 On this episode of Comics Coast To Coast we talk to Will Terrell: comic book, freelance, special agent and creator of the Super Zeroes comic.
Superzeroes is a free comic that is updated every Tuesday and Thursday. This comic follows four lovable high school outcasts, as they learn about life, love and who they are.
Don't forget to listen to all the great podcasts on the Frog Pants Network.
As always, you can find our show by clicking the link below, or if you want to take us with you,
you can download us from iTunes.