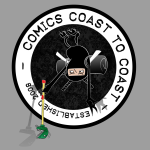 Join us this week on Comics Coast To Coast as we talk with KC Green of the webcomic GunShow
Gunshow is a comic about a lot of different things.
Like bones and blood and sadness and love.
And also nerds and hell and dogs and death.
And also growing up and breaking down and getting over something and ghosts.
And also family and kids and moms and dads.
And then maybe a comic or two about a mummy with a huge erection.

Truly Gunshow must be THE comic for everyone!
Don't forget to listen to all the great podcasts on the Frog Pants Network.
As always, you can find our show by clicking the link below, or if you want to take us with you,
you can download us from iTunes.