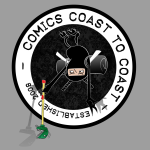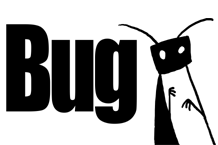 Join us this week on Comics Coast To Coast as we talk to Adam Huber(t) of the webcomic Bug.
I've had a weird relationship with Bug.

Ever since I was a little kid I knew I wanted to become a cartoonist. The only problem was: I had no idea what kind of strip to draw. Throughout my life, I've created lots of characters. Hundreds really. And I was dissatisfied with every single one of 'em. They were all cute, trite and hacky. Once I turned 30 I began to panic. I started having doubts that I'd ever find the the right character (or characters) for a comic strip. What I didn't realize is that I already created the perfect character for my sense of humor fifteen years earlier.

It was my freshman year of high school and I was in English class. The teacher handed each of us these clear sheets of plastic and a marker. On the plastic was a sentence with a grammatical mistake. Our job was to write the sentence correctly on the sheet of plastic. The teacher would then collect them and place them one by one on an overhead projector so the whole class could see how you corrected the sentence. Then the teacher would hand out all new sentences and we'd repeat the process.
Don't forget to listen to all the great podcasts on the Frog Pants Network.
As always, you can find our show by clicking the link below, or if you want to take us with you,
you can download us from iTunes.