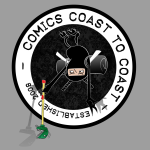 Join us this week on Comics Coast To Coast as we talk to Joel Duggan of Starcrossed.
(It's is just Starcrossed. One word… Uppercase 'S'. The online is implied.)
I was born and raised in Dartmouth, Nova Scotia. For those who aren't in the know, Dartmouth is part of the city of Halifax, on the east coast of Canada. I'm happy to say I've made a career out of cartooning in my home town. Cartoonist. Illustrator. Animator. Over the past decade I've worn a lot of hats.

I started in animation. Animating, supervising various projects, design and development, and eventually production management. In 2004 I founded Animafax Entertainment, a small illustration and design studio. Over the last few years I've worked with several other studios, locally and internationally. I've been lucky enough to have experience on shows like Mucha Lucha and George Of The Jungle and a few others spanning most of the major cartoon networks.

My work focus has slowly travelled in circles. When I was very young I just wanted to draw cartoons of any kind, inspired by classic Looney Tunes and Disney animation. In high school I had brief aspirations to work in comics. In university my personal work centred around drawing comic strips. Bill Amend (FoxTrot), Jim Toomey (Sherman's Lagoon), Frank Cho (Liberty Meadows) and of course the venerable Bill Watterson (Calvin and Hobbes) were my canon. My own strip at the time, Jungle Jazz, was published in the weekly university paper for a little over two years until I graduated in 2001. Eager to pursue a career in syndicated comics Jungle Jazz was submitted to (and rejected by) Creators Press Syndicate that same year. Publishing comics online never occurred to me. At the time I don't even think real high speed internet had been rolled out in Dartmouth. I decided a better way to make a living with my pencil was to take another serious look into animation.

Now, the bulk of my contract work is back to illustration, though I still do some small animated projects. Starcrossed is a return to my love of comic strips. The popularity and freedom of publishing comics online rekindled my interest in comics and provided the opportunity for an audience. I also think the time was right creatively. Writing and drawing Starcrossed is easily the highlight of my week.
Don't forget to listen to all the great podcasts on the Frog Pants Network.
As always, you can find our show by clicking the link below, or if you want to take us with you,
you can download us from iTunes.