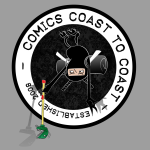 On this week's episode of Comics Coast To Coast we talk to Bob Scott: the animator…the legend. Oh…and he does the webcomic Molly and The Bear which makes it's debut as an online syndicated webcomic at Go Comics this Monday.
Bob Scott is a veteran animator of over twenty years. The Bay Area cartoonist's work has been described as "fluid, funny, old fashioned cartoon artistry" (The Tulsa Tribune) and his drawings and illustrations have appeared in various books including "Your Friend the Rat" , "The Art of WALL-E" and "Animating the Looney Tune Way." He also took first place in the 1994 "Boston Comic News" yearly best editorial cartoon contest.

Bob's animated short "Late Night with Myron" was called "Among the highlights" of the 1988 theatrical compilation film entitled "Outrageous Animation" by L.A. Weekly. His animation has been seen in numerous animated feature films such as Pixar's "Toy Story 3" , "Ratatouille" , "WALL-E" , "The Incredibles" and Dreamworks Animation's "The Prince of Egypt" among others. Bob also led the animation team on the Annie Award winning Pixar short "Your Friend the Rat".

His comic strip, "Molly and the Bear" , can also be read on Comics Sherpa and Gocomics. A graduate of the California Institute of the Arts film animation program, he currently lives and works in Northern California.
LINKS:
A very special thanks to Justin Thompson (https://mythtickle.com), John (https://chippyandloopus.com), Sebastiaan for our mashup and Scott (https://myextralife.com) for his mighty fine voice work.
Don't forget to listen to all the great podcasts on the Frog Pants Network.
As always, you can find our show by clicking the link below, or if you want to take us with you,
you can download us from iTunes.

Music To Draw By

Semi Minima by Chris Rusu

Webcomic Pick Of The Week


Skippy by  Jeremy Billadeau