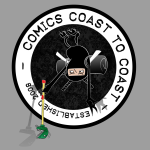 On this weeks episode of Comics Coast To Coast we talk to Chris Watkins the creator of Odori Park the comic.
About Chris Watkins : assures the audience that Odori Park is total fiction, and in no way autobiographical. Except for the part about being married to a Japanese woman, and having multi-racial children. And having taught English in Japan. And running a small business. And at least half the gags. Other than that, really, it's woven out of whole cloth. And that unflattering character is not you, honest. (That part's true.)

About Odori Park : Odori Park is the webcomic story of Japanese Arisa Nishimori, from snowy Hokkaido, Japan, and American Colin Easton, from Suburbia, U.S.A., navigating the culture shocks of romance, parenthood, family, friends, and making a living in an ever shrinking world. Colin and Arisa run the used bookstore A Book By Its Cover, and live in an apartment above the shop along with "Sprout," their multi-lingual toddler son. Together with friends and family, the Eastons paint a comedic picture of young family life in today's globalized world. A tale of east marries west by comic artist Chris Watkins.
LINKS:
As always, you can find our show by clicking the link below, or if you want to take us with you,
you can download us from iTunes.