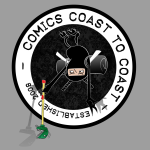 On this very excellent episode of Comics Coast To Coast we sit down with MXC, Clinton, Amy, Chris and Joel. Who are these cast of characters? They are programmers, artist, voice actors, students and podcasters. Most importantly they are comic readers. We sit down one on one and grill them about their the comics they read and why. Thanks to all you guys and gals. You were great.
Links coming. There are a lot.
As always, you can find our show by clicking the link below, or if you want to take us with you,
you can download us from iTunes.