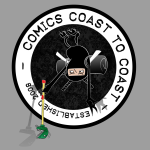 On this weeks episode of Comics Coast To Coast we talk to the incredible Brian Narelle.
LINKS:
https://www.narellecreative.net/
Also, a very special thanks to Justin Thompson (https://mythtickle.com), John (https://chippyandloopus.com), Sebastiaan for our mashup and Scott (https://myextralife.com) for his mighty fine voice work.
Don't forget to listen to all the great podcasts on the Frog Pants Network.
As always, you can find our show by clicking the link below, or if you want to take us with you,
you can download us from iTunes.