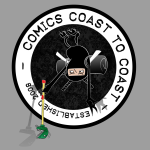 This slideshow requires JavaScript.
Dax Gordine joins Brian Dunaway & Joel Duggan to talk about his comic Forest Folk, his Illustrations and Animation work
About the Comic:
Forest Folk
https://facebook.com/forestfolkcomic
A weekly webcomic strip following the adventures of Filburt the Fox and Thomas the Sketching elf.
About Artist:
https://www.daxgordine.com/about.html
Born in 1976, Dax "D-Gee" Gordine has been a professional artist for 16 years, with jobs ranging from illustrating web comics and graphic novels to classical film animation and computer animation for video games. This range of experience in both digital and traditional mediums has made Gordine a versatile and dynamic artist whose work is continually in demand by peers and fans alike. He lives and works in Hamilton, Ontario.
https://www.daxgordine.com
https://www.instagram.com/d__gee/
https://www.daxgordine.tumblr.com
https://www.facebook.com/daxgordine.illustrator
https://twitter.com/D__Gee
https://www.youtube.com/channel/UC8OdyokL89xDduATehhyOZg
Show Notes:
Forest Folk
Tell us how the unique duo of Filbert and Thomas the sketching elf came about?
Your comic work has a fantastic "timeless" look to it. Who are your big art inspirations, past or present?
What are your daily drawing habits?
Zootopia! Any comparisons yet? People like to compare.
Forest Folk Throw away panels. Once upon a time Newspaper comics strips used these on Sundays as throw aways to fit their formats. But a great artist would make an amazing piece of art. I love that you use them..even though there is no practical reason.
You are using Social Media as your primary distribution solution. Especially Facebook, do you feel like you are missing out on not having a personal exclusive website? You have a metric ton of Instagram followers. How does that translate to Facebook likes? Twitter Followers…what is this Insta thing! You packed up and moved off of Deviant Art…but you did at least leave a forwarding address.
In your You Tube videos you are listening to some pretty chill music. Does the music influence the art mood or the other way around.
Thomas (Human/Elf) doesn't speak…well that we the audience can understand/hear. I love the idea of reversing the roles. You have tried several methods…Shapes, Lines and Nothing…did any feel more "right" than the other yet?
Techy stuff
What did you use to screen capture and edit the "Story Time" video on your YouTube channel?
https://www.youtube.com/watch?v=lkX_UTPKSgI
A lot of your work (over the past year) has a watercolor finish. What's your process for getting that look?
Your publishing Forest Folk on Facebook. Why there and not a more "traditional" comic blog?
I looked and looked and there isn't much about YOU online. Can you tell us a bit about yourself and what you do?
What is the most fun you've had on a client project (that you can talk about) lately?