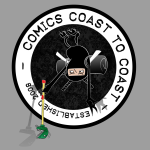 This slideshow requires JavaScript.
Jake Parker joins Brian Dunaway, Joel Duggan and Matthew Ducharme to talk about his new book Skyheart and his part in Inktober!
About the Comic:
Skyheart
Book 1: The Star Seed
https://www.kickstarter.com/projects/jakeparker/skyheart-book-i-the-star-seed
SkyHeart is an all-ages graphic novel inspired by my favorite movies and comics. If you liked Miyazaki's Nausicaa, Star Wars, Tokien's The Hobbit, and Indiana Jones, then you just might become a fan of SkyHeart.
SkyHeart will be a 7.5 x 10 inch 100+ page book that comes in both soft and hard cover editions.
The book is being written and drawn by me and is scheduled to be finished in May of 2016, and shipped out to backers in October of 2016.
For years I've been developing this project on the side, but it was so big, and so involved that it scared me! I felt I wasn't ready to create this book.
After years working in animation as a concept artist (Horton Hears a Who, Rio, Epic) and comics (Flight, Missile Mouse, Rocket Raccoon) my skills as an artist and storyteller got better. I feel like I'm finally at a level now where I can take on a project like this and do it justice.
So…I'm going for it!
About Artist:
Jake Parker is an illustrator and cartoonist. For the last 17 years he's worked on everything from animated films to comics to picture books. His credits include the animated films Titan A.E., Ice Age: Dawn of the Dinosaurs, Horton Hears a Who, Rio, and Epic.
He illustrated the New York Times bestselling book The Astonishing Secret of Awesome Man, and went on to also illustrate The Girl Who Wouldn't Brush Her Hair, The Tooth Fairy Wars, The Little Snowplow, and most recently finished his first children's book that he also wrote, Little Bot and Sparrow which will be available in fall of 2016.
Jake is the creator of the Inktober challenge and World Art Drop Day, with both initiatives involving thousands of artists across the world. He's taught at Brigham Young University and is the co-founder of SVSLearn.com, an online art school specializing in visual storytelling.
Utah Connection!
https://mrjakeparker.com
https://twitter.com/mrjakeparker
https://www.instagram.com/jakeparker/
https://www.youtube.com/user/jakeparker44
Show Notes:
Intro
Jake, can you tell us a little bit about yourself and your upcoming book series SkyHeart?
The Little Snowplow debuts at #1 on the 11/22/15 @nytimesbooks Children's Picture Book Best Sellers list! Tell us about this book and how it feels to be number 1?
Work (general)
I'm a huge fan of your work. — Just backed Skyheart the other day. Hardcover baby! Woo! — For me your work has always held a great deal of "appeal". It's a word tossed around a lot in animation and design. Do you agree? What can you tell us about "designing the appeal" in your own work?
You have been a concept artist for over 17 years on some pretty impressive projects. Do you have a favorite?
Blue Sky Studios sounds like a rad place to work. What is the work environment like over at Blue Sky?
Work energy and how to get stuff done.
https://www.youtube.com/watch?v=3thQ0JfrHNI
Can you tell us a little bit about what we can expect from your upcoming book Little Bot and Sparrow? Will it be kickstarted?
Freelance vs being an independent creator of your own ideas. How do you make that transition?
You have a few distinctive looks. Do you have particular styles that you use for certain projects?
Skyheart
15 years ago you had the idea for Skyheart. How much time did you invest in this project before you got serious? or has it always been serious?
What was it that finally made you pull the trigger on this long term project?
Once in a lifetime idea? How many do you get? Is that a fear for artists?
Can you fill us in a bit about the world that you have created in Skyheart?
Did Skyheart fuel your Inktober sketches? Or did Inktober sketches fuel Skyheart?
Kickstarter / Crowdfunding
Giving back. Your series on KickStarters and what you have learned so far. Why are artists such givers!?
Tell us what else we might find on your YouTube channel? Who is the channel really for?
What are one or two mistakes that you have made in the past with regards to Kickstarter campaigns for self publishing?
What was it that made you choose KickStarter over something like IndieGoGo?
Inktober
Can you tell us about Inktober and what motivated you to start an art movement.
What was your first indication that Inktober was taking on a life of its own?
What is World Art Drop Day?
What is #creativecollaborative and how do I get involved if I don't live in Utah
What is the value behind always having a personal project on the go?
Pay It Forward:
We've spent the show talking about you and your work. If you were to recommend an artist for our listeners to follow, who would that be and where can we find their work online? (Rephrase however you want.)
Joverine
https://www.instagram.com/joverine/
Dax Gordine
https://www.instagram.com/d__gee/