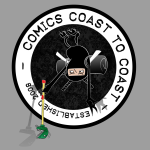 This slideshow requires JavaScript.
Christine Knopp joins Brian Dunaway, Joel Duggan and Matthew Ducharme to talk about her art and recent work at Disney Interactive
Show Notes:
Greetings Christine! Can you tell us a little bit about yourself and your current projects?
Tell us about your background work on Disney's Words of Wonder.
How much story do you get when working on backgrounds for a game?
You appear to have an affinity to illustrate exotic animals in your art. What goes into research? Do you have pets for research or companionship?
Over the Garden Wall. Did we get enough or do we need more. When is enough…enough?
How do you feel about artists creating their Christmas Cards? Is it an effective use of their time?
They are rebooting The Muppets on ABC midway through the season. What they got right and what they got wrong so far.
How was Jet City Comicon? Any stories? How was the haggling?
Tell us about your custom brush sets on GumRoad.
What is your spirit animal?
With Playboy announcing they are about to take the cheese out of the cake..Dean Yeagle vs Chris Sanders.Sexuality in cartoons and animation. How has it been handled properly and where has it not been?
As an artist, do you ever have trouble starting? Do you have any tips for pushing through the "…sits down and stares?"
Am I seeing some love for the 101 Dalmatians period of Disney animation?
You have a couple of Sphinx kitties, are they as soft as I've heard?
Animals are obviously one of your favorite subjects, do you have a favorite kind to draw?
What are some of the do's and don'ts of having an Etsy store?
You've posted traditional sketches along with your digtal work. What are some of your favorite traditional tools right now?
What are the challenges in drawing imaginary creatures?
Did you have to work at letting go to achieve the "loose" look to your art?
I noticed a young artist ask you on Tumblr about professional artist income vs. artist debt from school. Do you think (in general) that the scales are balanced regarding the expense of training vs. the income available to artists professionally?
https://kikidoodle.tumblr.com/post/131374986730/would-you-say-you-make-a-good-ammount-of-money-to
Pay It Forward:
We've spent the show talking about you and your work. If you were to recommend an artist for our listeners to follow, who would that be and where can we find their work online? (Rephrase however you want.)
https://kiki-doodle.deviantart.com/journal/my-art-inspirations-416940591